---
Class/Event Schedule
Scroll down to the bottom of this page to see photos from previous classes
Paper Piecing with Friends
Looking for a great place to sit and work on your paper piecing project with others who love the technique? Look no further because we have the place for you! Here is how easy it is:
The cost is only $5 to reserve your spot. (This is not an instructor lead class but we have ladies available who have been paper piecing for years. It's a great place to have fun and get some paper piecing tips from others.) The Paper Piecing with

Friends

events start at 10:00 a.m. and goes until 4:00 p.m. Here are the dates for the next Paper Piecing with Friends events:
Thursday, December 20
Thursday, January 17
Thursday, February 14
Call the shop at 678-355-6776 or stop in soon to reserve your spot. This class fills up fast so sign up soon.
Be sure to sign up soon for our next Sip & Sew event (see below). Sip & Sew runs from
10:00 a.m. - 4:00 p.m. The cost is $5.00. Bring something to "sip" on and enjoy a day of sewing.
Thursday, January 10
Thursday, February 7
Be sure to stop in or call to reserve your spot as space is limited. Our number is 678-355-6776.
Prairie Women's Sewing Circle (3-Month Session #2)
*NEW CLASS
Session #2 Tuesday Morning
Dates: Session 2 A.M.: Dec. 18, Jan. 22, Feb. 26 (10:00 - 12:00)
Session #2 Tuesday Afternoon
Dates: Session 2 P.M.: Dec. 18, Jan. 22, Feb. 26 (2:00 - 4:00)
Session #2 Wednesday Morning
Dates: Session 2 A.M.: Dec. 19, Jan. 23, Feb. 27 (10:00 - 12:00)
Cost: $37.50 Per Session (Choose from
One
of the Sessions Above)
Instructor: Muriel Pfaff
A unique, monthly club that will take you on a journey back in time as we explore life along the Oregon Trail. Gather together as the Prairie Women did, and hear anecdotal stories about their quilt-making, and what daily life was like for those who traveled by wagon trail. Each month we will be working on quilt projects from The Prairie Women Sewing Circle pattern set designed by Pam Buda. At each monthly gathering, you will receive a new quilt project pattern along with tips, techniques, and shortcuts for making the quilts. You will also experience pioneer life in a fun way with stories, food samples, and an old-fashioned quilting bee-type atmosphere. Each Session runs for three months. The complete "Journey" will last 12 months.
*You can still sign up even if you missed the first session.
Make Your Own Tuffet (2-Part)
Dates: Saturday, January 5 & February 2 (10 - 4)
Cost: $60
Instructor: Carol Stanek
No one could have predicted this latest craze. Tuffets are a beautiful accent to any home and they fit with any decor because you can make them out of any fabric you choose. Join us for two days of fun while you learn to make your own unique Tuffet. They're not difficult and a lot of fun to make. Pattern can be purchased at Cottontail Quilts.
Date: Saturday, January 12 (10 - 4)
Cost: $50
Instructor: Nancy Hutchison
"One Block Wonder" is the term used by Rosenthal and Pelzmann in their books to describe quilts composed of a single repeating shape usually cut from one fabric, and then put together in a kaleidoscope arrangement. These quilts are fascinating and require constant input from the quilter, which makes for an engaging experience until the last stitch.
Charm School: Great Snow Event of 2019

*NEW CLASS
Date: Wednesday, January 16 (10:00 - 12:30)
Cost: $30
Instructor: Muriel Pfaff
You'll be charmed, I'm sure, with all the things you can do with charm packs! This month we'll be celebrating the snow whether we have any or not! Join the fun as we work on a snowball quilt, throw a few snowballs, and sip hot chocolate to keep warm. Muriel will be sharing various things that can be done with this versatile block. It's a fast and easy quilt - a great 'snowy day' project! And no charm school would be complete without a few Southern-style etiquette lessons thrown in. Old-fashioned 'charming' fun!
Stained Glass Wall Hanging (on Fabric) 2-Part Class
*NEW CLASS
Date(s): Friday, January 18 & 25 (10:00 - 4:00)
Cost: $50
Instructor: Pat Wilson
Have you always wanted to make a "stained glass" quilt/wall hanging? Now you can! Sign up today and learn a lot of wonderful techniques needed to create a beautiful work of art. Plus, you pick from any of the three patterns below.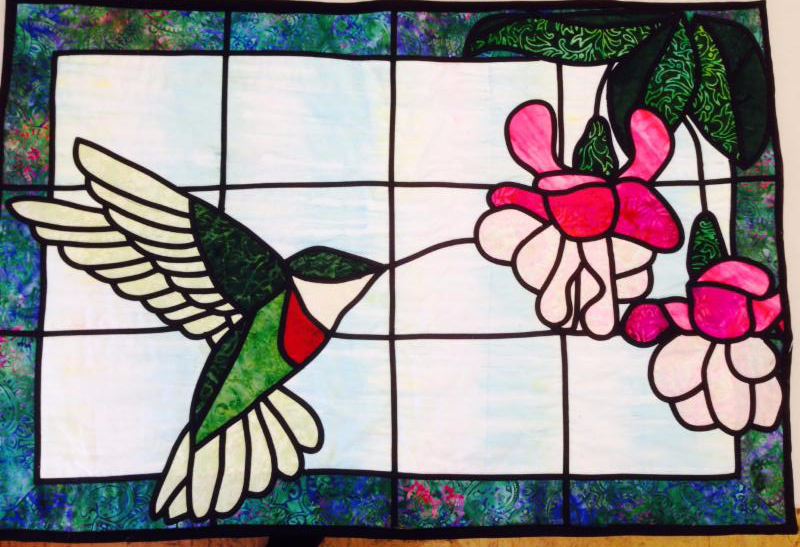 NEW Dinner Plate Dahlia Technique of the Month by Judy Niemeyer Quilting - 6-Month Class Plus Prep Class

* FULL - See New Class Dates in RED below:
Class Dates: Prep Class on February 9, 2019, Classes:
March 9, April 13, May 11, June 8, July 13 & August 10, 2019 (10:00 - 4:00)
*FULL
NEW CLASS DATES:

Prep Class- June 15, 2019, Classes: July 27, August 17, September 21, October 12, November 16 and December 21, 2019
Cost: $252 -- Class fee can be paid in two installments -- 1st at Registration & 2nd on March 1, 2019
Instructor:
Carol Stanek, Judy Niemeyer Quilting Certified Instructor
We are excited to be offering the Judy Niemeyer Quilting's NEW Dinner Plate Dahlia Technique of the Month starting in 2019! This is only available through a Certified Judy Niemeyer Quilting Shop or Instructor. You will learn all the techniques needed to make the stunning "Dinner Plate Dahlia" Quilt. This is a six-part class (plus a prep class) that you won't want to miss. Class fee does not include the pattern. Pattern will not be released until January 2019 and also will not be available on Quiltster for coloring until January 2019. The Queen size is 99" x 99" and the Wall is 80" x 80". Patterns are only available through the certified instructor (Carol Stanek), so place your order with Cottontail Quilts early. Space is limited so sign up for class early and come join the fun!
Note: All classes are non-refundable if cancelled within two weeks of the class date. Classes noted with an asterisk (*) are non-refundable after sign-up.
***Watch our Website and future E-Blasts for more class updates!***